చేదోడు విడుదల తేది – సెప్టెంబర్ 29
Shop Establishment Certificate కి సంబందించి "Renewal" ఆప్షన్ ఏపీ సేవా పోర్టల్ లొ ఇవ్వటం జరిగింది.
DA/WEDPS వారి ఏపీ సేవా పోర్టల్ లాగిన్ లొ Labour సెక్షన్ లొ Application For Integrated Registration Of Establishment Under Labour Laws (SECOND SCHEDULE [Sec.2(d) and Sec4(1)])- FORM A సర్వీస్ లొ Application Form లొ Fresh / Renewal అనే రెండు ఆప్షన్ లు ఇవ్వటం జరిగింది. Renewal చెయ్యాలి అనుకునే వారు Renewal ఆప్షన్ ద్వారా చేసుకోవచ్చు. దానికి గాను పాత సర్టిఫికెట్ నెంబర్ తప్పనిసరి.
WEA/WWDS వారు వ్యాలిడిటీ పూర్తి అయిన సర్టిఫికెట్లను ఎట్టి పరిస్థితుల్లో కూడా వెరిఫికేషన్ సమయంలో అప్లోడ్ చేయకూడదు.
The government of Andhra Pradesh has launched a scheme aimed at supporting small-scale business owners, such as tailors, washermen, and barbers in the state. This article will provide information on the scheme's eligibility criteria, required documents, benefits, objectives, application process, selection process, and other important details for the year 2021. Stay updated by following us.
The scheme offers the following benefits:
Beneficiaries will receive financial aid of Rs 10,000.
This aid will help them purchase modern equipment for their work, as it is their primary source of income.
jaganna chedodu Eligibility
To be eligible for the scheme, applicants must meet the following criteria:
Age must be less than 60 years old
Rajakas/Dhobis (washermen) from the Andhra Pradesh state
Be a Nayee Brahmin (barber) who owns their own establishment(shop)
Be a tailor from the Backward Class (BC), Extremely Backward Classes (EBC), or Kapu Community
How to apply and Documents Required For Jagananna Chedodu Scheme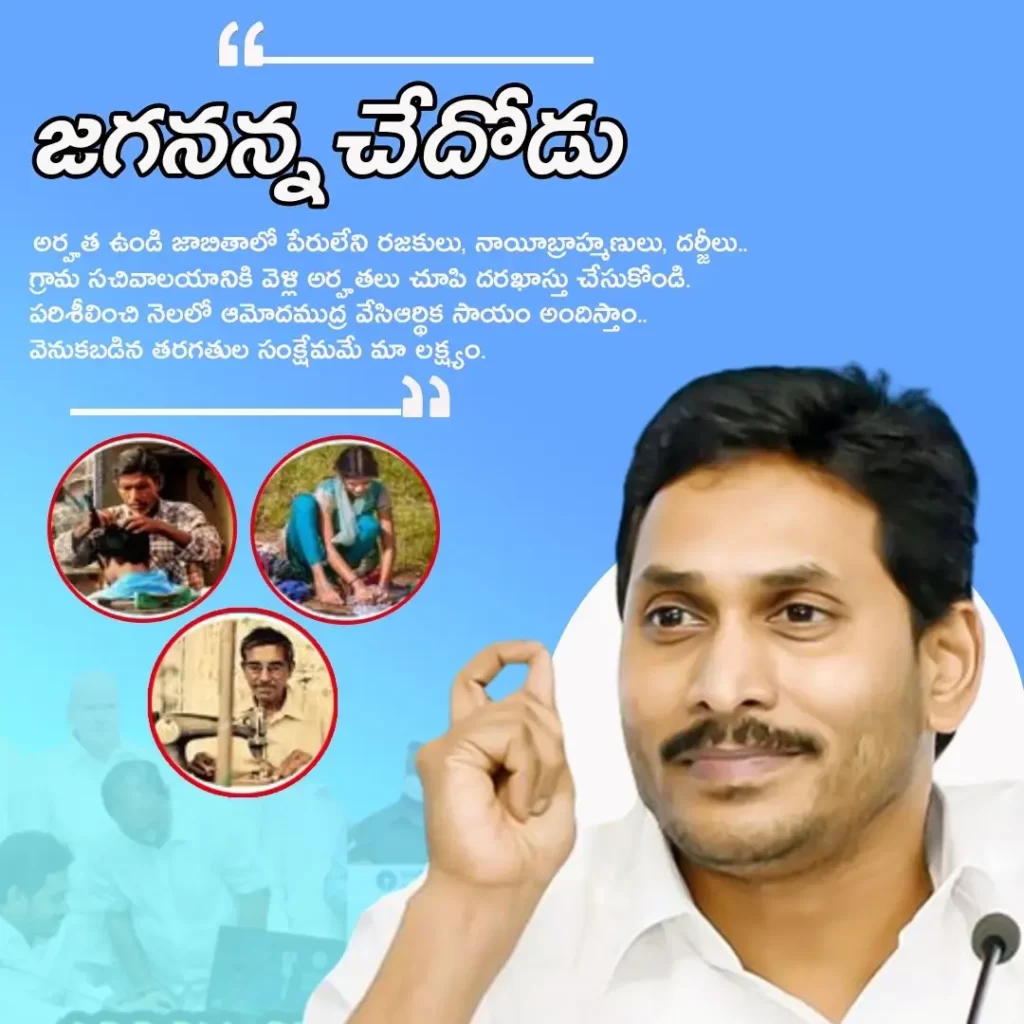 To apply for the scheme, the following documents are required:
అప్లికేషన్ ఫారం(Application Form)
ఆధార్ కార్డు జిరాక్స్(Aadhaar Card Xerox)
రైస్ కార్డు జిరాక్స్(Rice card xerox)
BANK పాస్ బుక్ జిరాక్స్(BANK PASS BOOK Xerox)
రిజిస్ట్రేషన్ నెంబరు / రిజిస్ట్రేషన్ సర్టిఫికెట్ ( సచివాలయాల్లో / మీసేవ లో రిజిస్ట్రేషన్ జరుగును )(Registration Number / Registration Certificate (Registration will be done at Secretariats / Meeseva)
షాపు తో లబ్ధిదారుడి ఫోటో(Photograph of beneficiary with shop)
కుల ధ్రువీకరణ పత్రం(Caste Certificate)
ఆదాయ ధ్రువీకరణ పత్రం(Income certificate)
Aadhar Update History
Implementation of Jagananna Chedodu Scheme
The government will identify and select the beneficiaries for the Jagananna Chedodu scheme through surveys conducted by ward or village volunteers across the state. The volunteers will present a list of eligible applicants to the ward and village secretaries, and a social audit will be conducted to determine the final beneficiaries.
The list of selected beneficiaries will be communicated to the citizens through the ward secretariat. The benefit amount will be transferred directly to the beneficiary's bank account via Direct Benefit Transfer (DBT). If an applicant's name is not on the list, they can contact the ward secretariat for further assistance.
చేదోడు పథకానికి సంబందించిన అన్నీ అర్హతలు మరియు Tailoring/Washermen/Barber వృత్తి కుటుంబం యొక్క ప్రధాన జీవనధారంగా కచ్చితంగా కలిగి వుండాలి.