The Nadu Nedu Scheme, also known as Mana Badi Nadu Nedu, is a flagship program launched by the Government of Andhra Pradesh in 2019 to improve the learning outcomes and decrease the dropout rate in all schools by taking up various measures including upgrading the school infrastructure.
Toilets with running water
Drinking water supply
Major and minor repairs
Electrification with fans and tube lights
Compound walls
Green chalk boards
Furniture
Additional classrooms
Digital education (tabs, smart TVs, and IFPs)
Kitchen sheds
Painting of entire campus
Benefits of the Nadu Nedu Scheme:
Improved learning environment for students
Increased student enrollment and attendance
Reduced dropout rate
Improved quality of education
Increased teacher satisfaction
Reduced workload for teachers
Improved community participation in education
This STMS NADU NEDU APP is very useful for All the Head Masters of Nadu Nedu for Uploading the Bills.
Purpose:
To showcase the quality products under the JVK scheme.
Help in quality check at mandal level.
Display each JVK item on the Quality Wall.
Setting up of Quality Wall at state and each mandal stock point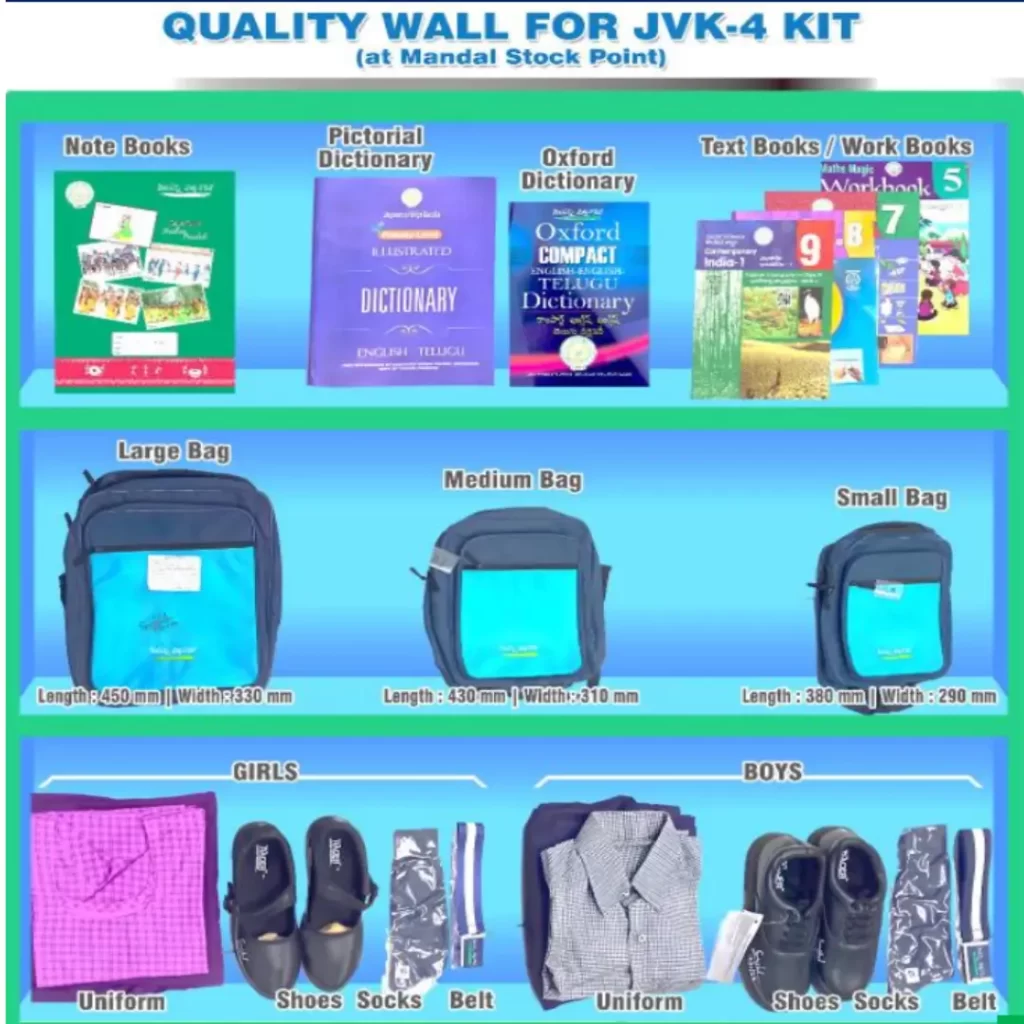 Every child in Andhra Pradesh should be in a school/college studying in any class between 1st to 12th (equivalent ) or has passed class 12th (equivalent)
Achieving 100% Gross Enrolment Ratio (GER) at all levels (Primary, Upper Primary, Secondary and Higher Secondary) by 2023-24
Supplementary Measures Proposed for 100% GER
Promoting positive competition among village/ward secretariats and volunteers
Creating a common admission portal for all institutions belonging to different departments
Readmitting 10th and 12th class failed students to regular classes
The existing practice up to 2022-23 for student admissions in Andhra Pradesh
School Education: Students apply for admission to schools through the department portal.
Intermediate Education: Students apply for admission to intermediate colleges through the Jnanabhumi portal.
Polytechnics/Diploma: Students apply for admission to polytechnics and diploma courses through the All India Survey on Higher Education (AISHE) portal.
Certificate Course in Industrial Training (ITI): Students apply for admission to ITI courses through the AISHE portal.
Para medical courses: Students apply for admission to para medical courses through an independent portal.
Diploma in Agriculture Sciences/Horticulture: Students apply for admission to diploma courses in agriculture sciences and horticulture through an independent portal.
Starting from the academic year 2023-24, all student admissions in Andhra Pradesh will be done through the Student Info Portal (https://studentinfo.ap.gov.in). All institutions will be provided with a unique code and the ability to enter student data into the child info database.