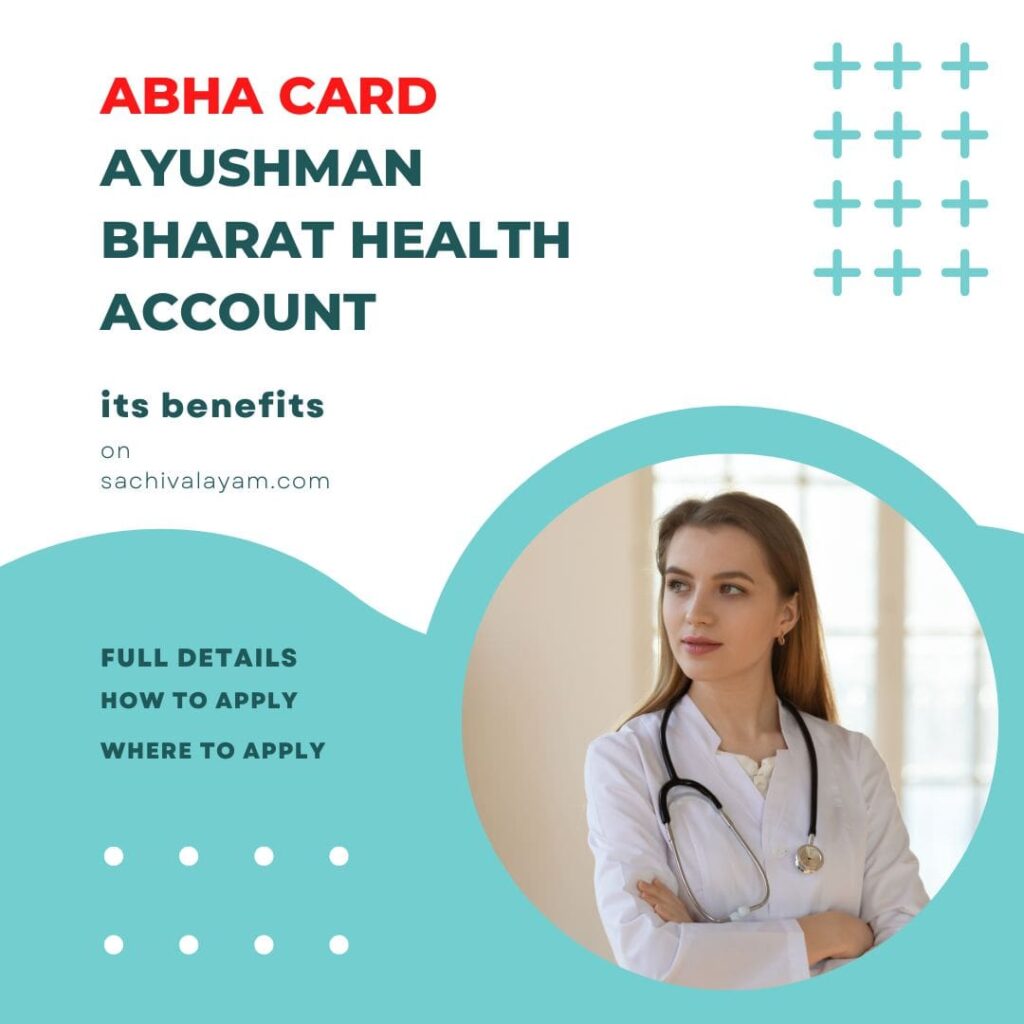 The Ayushman Bharat Health Account (ABHA card), formerly known as the Digital Health Card, was introduced by the Central Government under ABDM( Ayushman Bharat Digital Mission).
With it, you can enter a hospital and enjoy cashless treatment. The pre-hospitalization period is covered for three days, while the post-hospitalization period is covered for fifteen days.

Abha scheme and its benefits?
Your individual participation in India's digital healthcare ecosystem will be identified by your 14-digit ABHA number. You can share and access your digital health records using your ABHA (Ayushman Bharat Health Account) Address
If you register and download an ABHA health ID card, you can take advantage of the following advantages.
With just a few clicks, you may view all of your medical information, including tests, diagnoses, medication prescriptions, and more.
Your medical records can be readily shared with hospitals, clinics, doctors, etc. As a result, you can access healthcare even in unfamiliar areas.
You can get access to the Healthcare Professional Registry (HPR), which is a list of all Indian physicians.
Plus, you get access to the Health Facility Registry (HFR), a list of all Indian public and private medical facilities.
Also, AYUSH treatment centers accept this card. Ayurveda, yoga, naturopathy, unani, siddha, and homoeopathy are among the available treatments.
How to Apply for ABHA health ID card registration online
Primarily, there are two ways you can apply for ABHA health ID card registration online. Namely through Aadhaar Card or Driving Licence. Let's discuss both these methods briefly.
Via Aadhaar
You can use your Aadhaar to register for an ABHA health ID, provided it is linked to your mobile number. This is required for OTP authentication. If your mobile number is not linked to your Aadhaar, you can seek assistance from an ABDM participating facility. 
Via Driving Licence
If you use your Driving Licence, you will only obtain an enrollment number from the ABDM portal. After that, you have to take your driving licence to a nearby ABDM participating facility to get your identity verified. Once that is completed, your ABHA health ID will be generated.
Documents required for ABHA registration
Online registration for ABHA registration usually does not require the submission of any physical documents. However, you may be required to input the following information to generate your ABHA ID.
Mobile number

Aadhar number

PAN number

Driving Licence number (only for generating an enrollment number)
How to generate/create your Ayushman Bharat Health Account number (health card ID)
Your ABHA health ID card can be availed online in the following ways.
Through the official website (@healthid.ndhm.gov.in)

Through the ABHA mobile application

Through other third-party applications like Paytm

Some health centres may offer the facilities and assistance for online registration
Steps to generate your Ayushman Bharat Health Account number
The steps to generate your Ayushman Bharat Health Account number are very simple and the entire process may take only around 10 minutes to complete. Here are the steps.
Step 1: Visit the official NDHM website or download and open the ABHA mobile app.
Step 2: Click on the tab titled "Go to create my ABHA number".
Step 3: Enter either your driving licence, Aadhaar or PAN number.
Step 4: An OTP will be sent to the respective registered mobile number, which has to be inputed.
Step 5: After that, you will be asked to enter your mobile number and you will receive an OTP on your phone to verify it.
Step 6: Once your mobile number is confirmed, a National Health Authority form page will load. In that, you will have to enter personal details like your name, age, gender, email id, etc.
Step 7: After submitting your responses, you will be able to download your ABHA ID. Using those credentials you can log in and avail of all the services offered under ABHA.
How to download ABHA digital health ID card online
Downloading your ABHA digital health ID card can be done once the registration is completed. The following are the two simple steps you need to follow to download your ABHA health card online.
Step 1: Visit the NDHM official website or ABHA mobile app and log in to your personal account.
Step 2: Then, locate your ABHA ID card and click on the download option.
To sum up
Obtaining an ABHA card can significantly improve your access to medical care. It will help you to find health centres and medical professionals and also share your medical records seamlessly with doctors across India. You can also securely save your medical data and grant access to medical professionals as and when needed. Thus, having an ABHA card can improve your overall healthcare experience.