A caste certificate is a document issued by the government of Andhra Pradesh that identifies the caste of an individual.
It is used to avail of government benefits and quotas reserved for Scheduled Castes (SC), Scheduled Tribes (ST), and Other Backward Classes (OBC).
Required Documents for Caste Certificate
Proof of identity (Aadhaar card, PAN card, voter ID card, etc.)
Proof of residence (ration card, electricity bill, water bill, etc.)
Birth certificate
SSC marks memo or transfer certificate
Caste certificate issued to the family members
You can apply for a caste certificate online or offline. To apply online, you can visit the Meeseva website/VSWS Website and submit your application. To apply offline, you can submit your application at any Meeseva center/Sachivalayam
DA/WEDPS  => VRO  =>  RI  => Tahsildar => RDO (Specific Castes)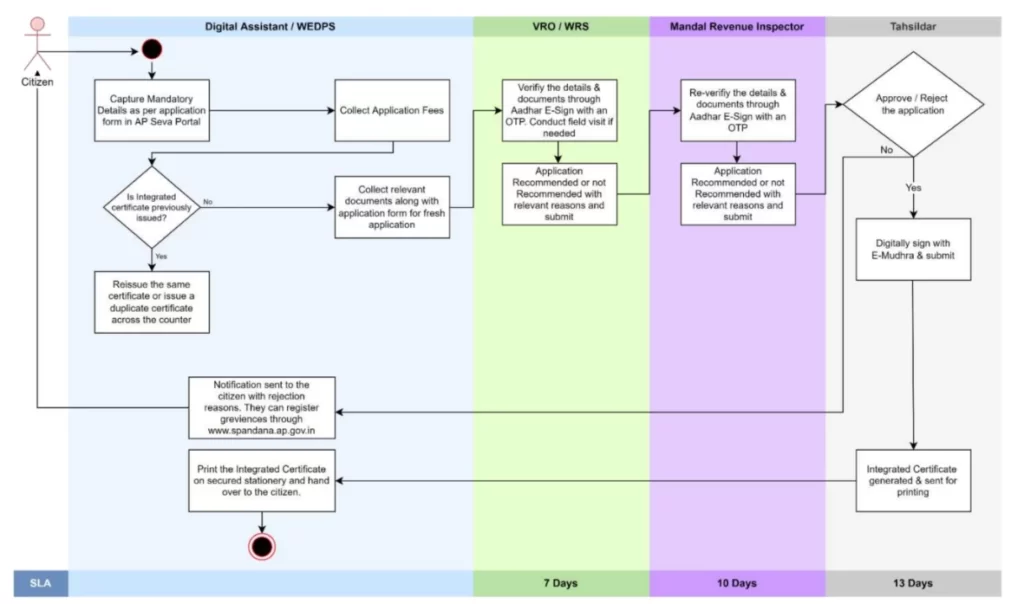 CCLA directions not to issue beda budga jangam certificates – CLICK HERE
The processing time for a caste certificate in Andhra Pradesh is usually 15-30 days.
Once your application is processed, you will be able to download your caste certificate from the Meeseva website/VSWS Website or collect it from the Meeseva center/Sachivalayam where you submitted your application.
Validity of an Caste Certificate in Andhra Pradesh
The Community, Nativity and Date of Birth Certificate issued by the Competent Authority is a permanent document.
Caste Certificate status check online
GO TO VSWS WEBSITE – CLICK HERE
Then Enter Your Application Number on  "Serivce Request Check"
Enter Captcha then OK
Now You Will See Your Application Status